Have a look through a selection of our recent publications: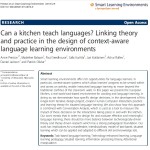 Preston A, Balaam M, Seedhouse P, Kurhila S, Kotilainen L, Rafiev A, Jackson D, Olivier P. Can a kitchen teach languages? Linking theory and practice in the design of context-aware language learning environments. Smart Learning Environments 2015, 2(9).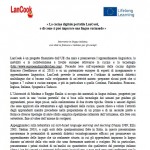 G. Pallotti & Niemants. N.S.A "Peut-on apprendre une langue en cuisinant? La cuisine numérique portable LanCook". Progetti per l'apprendimento linguistico : Pluralità di obiettivi, metodologie e strumenti, 4 febbraio 2014, Scuola di Lingue e Letterature, Traduzione e Interpretazione, Bologna.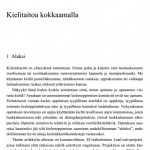 Kotilainen, Lari & Kurhila, Salla 2014: Kielitaitoa kokkaamalla. In Y. Lauranto & M. Vehkanen (eds.), Päättymätön projekti. Puhetta eri S2-foorumeilla. [Talk at different L2-forums] pp. 63-74. Kakkoskieli 7. Helsingin yliopiston suomen kielen,
suomalais-ugrilaisten ja pohjoismaisten kielten ja kirjallisuuksien laitos, Helsinki.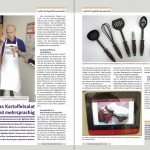 Interaktives sprachenlernen in der digitalen kuche (p.30)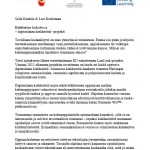 Salla Kurhila & Lari Kotilainen: Kielitaitoa kokatessa – digitaalinen kielikeittiö -projekti. Conference in Language education KieliPeda 2013. Jyväskylän yliopisto 16.-17.5.2013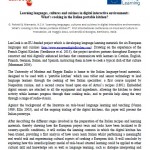 G. Pallotti & Niemants. N.S.A. &  "Learning languages, cultures and cuisines in digital interactive environments: What's cooking in the Italian portable kitchen?". First international conference on Food and Culture in Translation, 23 maggio 2014, Università di Bologna, Bertinoro, Italia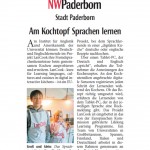 "Am Kochtopf Sprachen lernen", Neue Westfälische Paderborn
Masats, D, Juanhuix, M & Albines, J. Understanding Task-based interaction in human-computer interaction: Learning Spanish as a Foreign Language in a Digital Kitchen. Edulearn 2014, Barcelona, 7-9 July 2014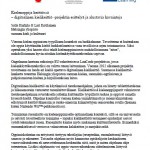 Salla Kurhila & Lari Kotilainen: Kielenoppija keittiössä – digitaalinen kielikeittiö -projektin esittelyä ja alustavia havaintoja. Autumn Symposium of the Finnish Association of Applied Linguistics – AFinLA 2013. Turun yliopisto 14.-16.11.2013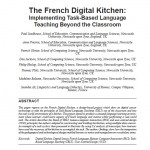 Seedhouse P, Preston A, Olivier P, Jackson D, Heslop P, Plötz T, Balaam M, Ali S. The French Digital Kitchen: Implementing Task-Based Language Teaching beyond the Classroom. International Journal of Computer-Assisted Language Learning and Teaching 2013, 3(1), 50-72.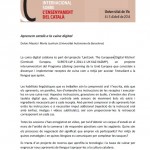 Masats, D & Juanhuix, M.  Aprenem català a la cuina digital. IV Simposi Internacional sobre l'Ensenyament del Català. Universitat de Vic, 4-5 April 2014.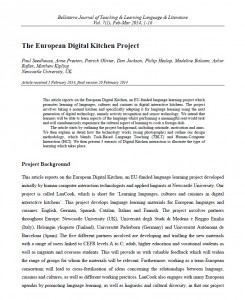 Seedhouse P, Preston A, Olivier P, Jackson D, Heslop P, Balaam M, Rafiev A, Kipling M. The European Digital Kitchen Project. Bellaterra Journal of Teaching & Learning Language and Literature 2014, 7 (1), 1-16.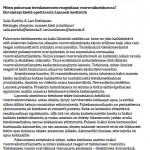 Salla Kurhila & Lari Kotilainen: Miten puhuvaan tietokoneeseen reagoidaan vuorovaikutuksessa? Havaintoja kieltä opettavasta Lancook-keittiöstä. 41st Finnish Conference of Linguistics. Turun yliopisto 8.-10.5.2014.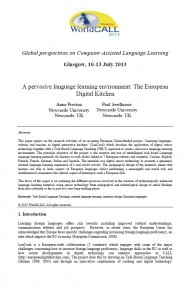 Preston A, Seedhouse P. A pervasive language learning environment:The European Digital Kitchen.In: Global perspectives on Computer-Assisted Language Learning (WorldCALL). 2013, Glasgow, UK.