LanCook: Promoting European language learning, mobility and collaboration through cooking and technology
The results of the LanCook project involved a number of 'products' and other outcomes. In terms of products, our collaborative work resulted in: 
High quality trialled and tested (with more than 300 learners) task-based language learning materials for learners to cook dishes linked to 7 European cultures and cuisines: Catalan, English, Finnish, French, German, Italian and Spanish.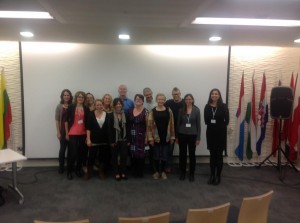 Materials which link to the Common European Framework of Reference for Language levels A, B and C. Our final report can be downloaded here.
An easily accessible 'authoring tool' which enables users to create further materials for a whole range of teaching and learning contexts.
A transferable model of task-based, situated learning which can be applied to many different technological settings, skills and knowledge sets, not just to language learning. Read about more about our model here.
Our outcomes included a wide range of dissemination and exploitation activities across Europe. Since 2012, we have been promoting the core objectives of our project through cooking sessions with learners, workshops with teachers, community leaders and language students. Photos from the culmination of our activities, an international event held at Europe House in London (home of the European Parliament in the UK) where we ran 7 mobile kitchens in one space in 7 different languages:
Alternatively, you can also check out our recent online 'hangout' where we streamed a live cooking session, just go here.
For more information, you can download our English language version of the LanCook Results flier here or check out our outcomes in English, Italian, Finnish, German, Spanish and Catalan